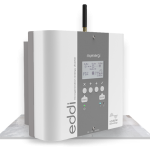 The UK's Number 1 Solar Power Diverter
eddi interrupts the flow of excess energy produced being imported back to the grid and optimises its use by diverting the energy to heat appliances.
At certain hours 'time of use energy tariffs' are significantly cheaper. So with eddi, you can utilise the built-in programmable boost timers to ensure you get the most from your PV!
Eddi is also compatible with energy storage appliances, such as a battery wall. So, if you don't need the excess right away, you can divert it to your storage device to use later, when you need it.
Download the specification sheet by clicking on eddi.