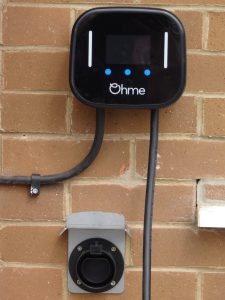 Installation in Duffield, Derbyshire
Midlec Ltd have recently completed an installation of the Ohme Home Pro system for a customer in the area of Duffield in Derbyshire.
The Ohme Home Pro electric vehicle charging point is a stylish & feature rich product, with the first ever charger to come with an LCD screen allowing users to take ultimate control of their charge! With an easy to use mobile phone application, it allows users to charge during negative tariffs meaning you get #paidtocharge.
With the product being built for fast charging it means users can charge up to 7kW per hour meaning users spend less time charging and more time out on the open road. The Ohme Home Pro is a climate conscious EV charging point and is compatible with all electric vehicles.
Plus there's more ways to pay! The Ohme Home Pro is an OZEV approved charging point meaning you can save up to £350 on the installation of a brand new one.
If you would like to enquire or learn more about this electric vehicle charging point, please do not hesitate to contact Midlec Ltd today and a member of the friendly team will be more than happy to help!